From The Guardian: – R. T.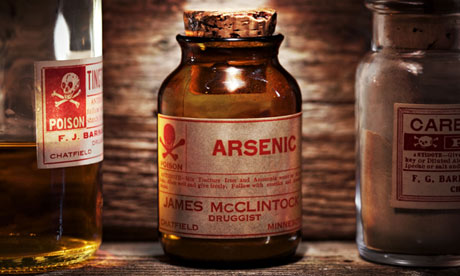 Arsenic – fancy a pint? Photograph: Alamy
Since the horsemeat scandal, more of us than ever before are holding a microscope up to what we eat. But no matter how many labels you read, you could still be consuming things you'd rather put on your "do not eat" list. From human hair in our bread to fish bladder in our beer, there are a lot of additives and food processing techniques that employ ingredients and chemicals few would classify as "appetising". It's a reminder, frankly, that non-processed foods are your best bet.
Arsenic
Traces of arsenic in food are nothing new. The potent human carcinogen arsenic has been known to turn up in everything from rice to cereal to juice, and most recently German researchers found traces of it in beer, noting some levels found were more than twice than what is allowed in drinking water. Traces of arsenic can actually be found in both beers and wine that are clearer in colour. That's because they will have been filtered to get rid of plant matter and leftover yeast; most people don't want to drink a cloudy pinot grigio after all. To filter, beer and winemakers use diatomaceous earth, a natural product that contains iron and metals; hence the arsenic. Want less arsenic in your drink? Opt for drinks that are unfiltered.
Human hair
Amino acids are your body's building blocks, and while they can be good for your health, not all amino acids are created equal. L-Cysteine – an amino acid used to prolong shelf-life in products such as commercial bread – can be found in duck and chicken feathers and cow horns, but most that's used in food comes from human hair. It has been reported that most of the hair used to make L-Cysteine comes from China, where it's gathered from barbershops and hair salons. You can avoid L-Cysteine by buying fresh bread from a local baker, as it is not an additive in flour. Steer clear of fast food places such as McDonald's, Dunkin' Donuts and Burger King too, who all use L-Cysteine as an additive.