Savory soups, stews and other rib-stickin' fare! You don't add meat to any of these tasty autumn warm-ups. So many meals and soups taste great and have no animal fat in them! For instance, the best "meatballs" I've ever eaten in my life are vegan, made by pal Kathy. As I wolf 'em down, I always ask her: Are you sure these are totally meatless? You didn't slip a little meat in?   … They have flavor, texture, mmmmm … they are amazing. They are totally meatless.
Soups/stews are a yummy ways to ease yourself into a diet with less/no meat. – R. T.
**********
From PETA.ORG
There's no better way to welcome the cooler months than with a hearty vegan stew but it's important that the dish not only warm your soul and please your palate—it should also nourish your body with nutrients, minerals, protein, and fiber.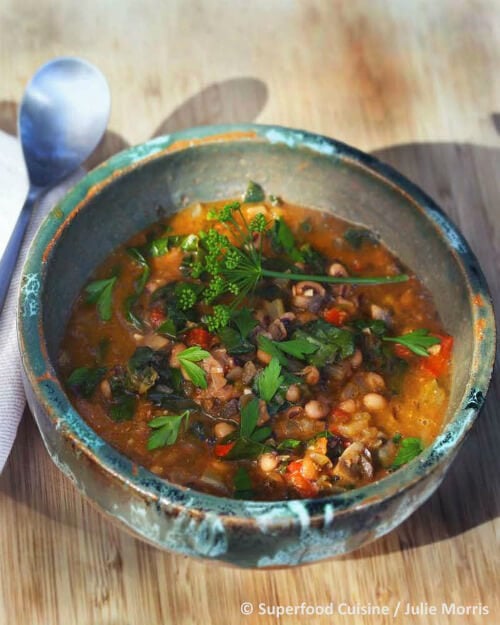 In her new book, Superfood Cuisine: Cooking with Nature's Most Amazing Foods, natural-food chef Julie Morris shows us how to use nutrient-dense superfoods that will heal and energize the body and promote radiant good health.
Today we're sharing from Superfood Cuisine . The recipe is a filling stew made with kale and black-eyed peas—a fitting tribute to the bounty of fall. Bon appétit!
Kale & Black-Eyed Pea Stew
1 Tbsp. coconut oil
2 cups diced white onions (about 1 medium onion)
6 cloves garlic, minced
3 stalks celery, diced
1 red bell pepper, diced
1 Tbsp. chopped fresh oregano leaves
1/2 Tbsp. chopped fresh thyme leaves
1/4 tsp. chipotle powder
1 Tbsp. smoked paprika
3 cups vegetable broth
3 cups water
2 Tbsp. wakame flakes, ground or crushed into fine pieces
3 cups cooked black-eyed peas
1 head kale, stems discarded and leaves chopped
Juice of 1/2 lemon
Fresh parsley, chopped, for garnish
In a large pot, melt the coconut oil over medium heat.
Add the onions and garlic and cook for 2 minutes, stirring occasionally.
Add the celery and bell pepper and cook for a few minutes longer.
Stir in the oregano, thyme, chipotle, and paprika and cook for about 30 seconds.
Add the vegetable broth, water, wakame flakes, and black-eyed peas.* Bring to a gentle simmer and cook, uncovered, for 30 minutes, adding more water if needed.
After the soup is cooked through, stir in the kale* and keep over the heat for a minute longer—just long enough to wilt the kale.
Add the lemon juice and turn off the heat. Top with parsley and serve.
Makes 6 to 8 servings
*Variation: Add 1 cup of diced smoked tofu when you add the black-eyed peas.
*Adding the kale at the end of the cooking process ensures that it's softened enough to be enjoyed without destroying all its nutrients through heat.
Superfood tip: Using smoked ingredients like chipotle powder and smoked paprika add an impressive depth of flavor to recipes without compromising nutrition through overcooking.
Check out Julie's blog for more tips and recipes, or download a free superfood booklet!
Other superfood recipes posted on PETA Living: