From The New York Times. – R. T.:
Fred R. Conrad/The New York Times – Joe Nocera
Let's Get M.A.D.D. About Guns
By JOE NOCERA
Published: December 18, 2012
On May 3, 1980, a 13-year-old girl named Cari Lightner was killed by a drunken driver. A terrible alcoholic, the man had three prior drunken driving convictions. He had just come from a bar, on the back end of a three-day binge.
Within weeks, Cari's mom, Candy Lightner, co-founded M.A.D.D., or Mothers Against Drunk Driving. All over the country, mothers fed up with the unwillingness of politicians to do anything about drunken driving flocked to the organization. Within a few years, M.A.D.D. had persuaded President Ronald Reagan to support a national drinking age of 21, and it had pushed through state laws toughening the penalties for driving while intoxicated. Perhaps most important, M.A.D.D. turned a dangerous behavior that had long been socially acceptable into a taboo.
I was out of town on Friday, when the Newtown, Conn., massacre took place and could only connect to my loved ones by phone. My fiancée wept uncontrollably: "I can't imagine what it would be like to drop Mackie off at school, and never see him again," she said, referring to our 2-year-old son. My grown daughter also cried.
Listening to them – and seeing how powerfully affected the country has been by this horrible slaughter of children and their teachers – I couldn't help thinking about M.A.D.D. Its success came about because its founders tapped into a wellspring of anger that had been quietly building – just like the current anger over the recent spate of mass killings. But it also came about because mothers could give a human face to the consequences of political inaction: their own children. How do you trump that?
Sadly, thanks to the elementary school shootings on Friday, children are now inexorably linked with the kind of mass killing that has become far too common. On Sunday, at the vigil in Newtown, President Obama explicitly cast the country's lax gun laws as a failure to protect children. I have no doubt his remarks were heartfelt, but they were also politically shrewd. Rarely has the National Rifle Association been so silent. …
to read more, click on the link below:
http://mobile.nytimes.com/article?a=1007693&f=28&sub=Columnist
**************************
To read other stories about this PREVENTABLE  American tragedy, please click on the several links below. LET'S BAN ASSAULT WEAPONS – NATIONALLY. Let's – on federal level – institute BACKGROUND CHECKS on EVERYONE who buys guns at gun shows/through private dealers. LET'S DO THIS TODAY! – R. Tirella :
http://mobile.nytimes.com/2012/12/18/nyregion/amid-the-whiz-of-bullets-seeking-comfort-in-song.xml?f=19
http://mobile.nytimes.com/2012/12/17/blogs/renewed-and-some-new-support-for-gun-control.xml?f=19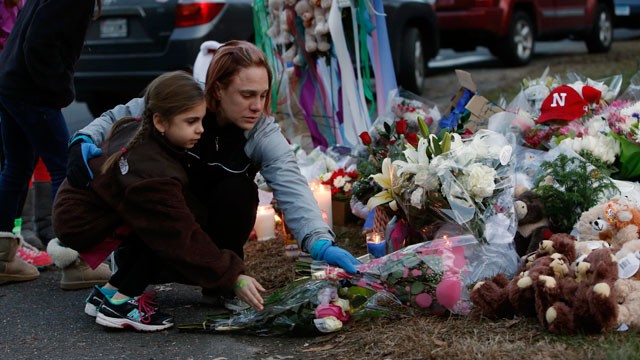 http://mobile.nytimes.com/art/1006817/28?sub=Columnist
http://mobile.boston.com/art/35/metrodesk/2012/12/17/mass-governor-says-renew-push-for-tougher-gun-regulation/qwrhw0d6ObDt18ibJhldJP/story
http://www.courant.com/news/connecticut/newtown-sandy-hook-school-shooting/hc-timeline-newtown-shooting-1216-20121215,0,5058106.story