From PETA.ORG:
Just what is this delicious-looking pile of food?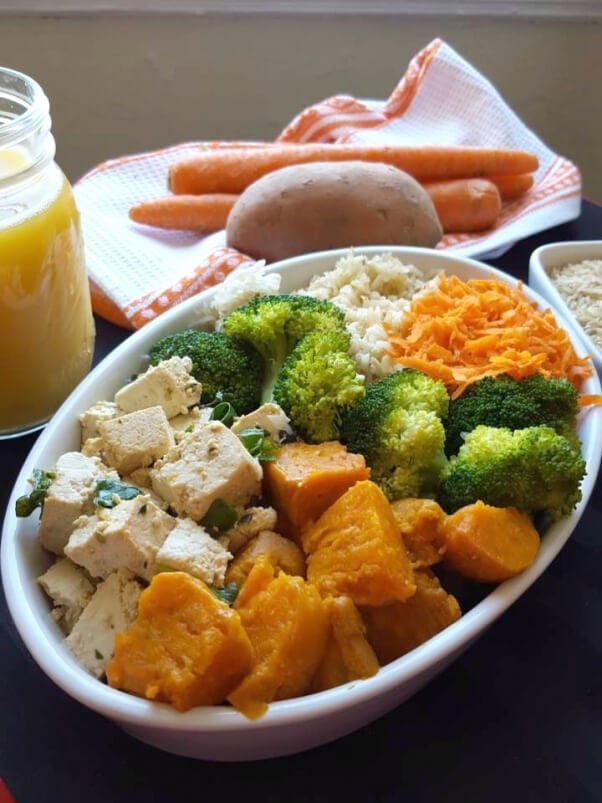 Dubbed a "perfectly balanced meal," a macro (short for "macrobiotic") bowl has room for interpretation but usually includes grains, vegetables, protein, and fermented foods.
"Macrobiotics is about balancing ourselves with the natural world—and the easiest way to do that is with our meals," chef Lee Gross of M Café in Los Angeles told Well+Good. "We get further and further away from this balance if we choose (to eat) processed industrialized foods."
A well-balanced macro bowl should generally consist of 1/3 grains (try brown rice, millet, quinoa, or couscous), nearly 1/2 mixed vegetables (maybe sweet potatoes, broccoli, and onions), almost 1/5 protein (like beans, tempeh, or tofu), and finally a bit of fermented foods (such as sauerkraut, miso paste, or pickled vegetables with active probiotics).
The recipe below is one idea for how to make your own delicious macro bowl. Be creative and try your own combination of goodies. Simply layer all your ingredients in a bowl, and you're in for some healthful, macrobiotic nutrition.
1/2 lb. extra-firm tofu, drained, pressed, and cubed 
1 Tbsp. olive oil 
1 Tbsp. soy sauce 
Pinch basil 
Pinch oregano 
1 cup cooked brown rice 
1 Tbsp. miso paste 
1/2 bunch broccoli, cut into florets and steamed 
1/2 cooked sweet potato, diced 
1 large carrot, shredded 
1 tsp. sauerkraut 
1 tsp. pickled ginger (optional) 
Combine the tofu, olive oil, soy sauce, basil, and oregano in a pan and cook on medium heat until the tofu is browned.
Mix the cooked brown rice and miso paste together in a medium-sized bowl. Add the tofu mixture, broccoli, sweet potato, carrot, sauerkraut, and pickled ginger and enjoy!
Makes 2 servings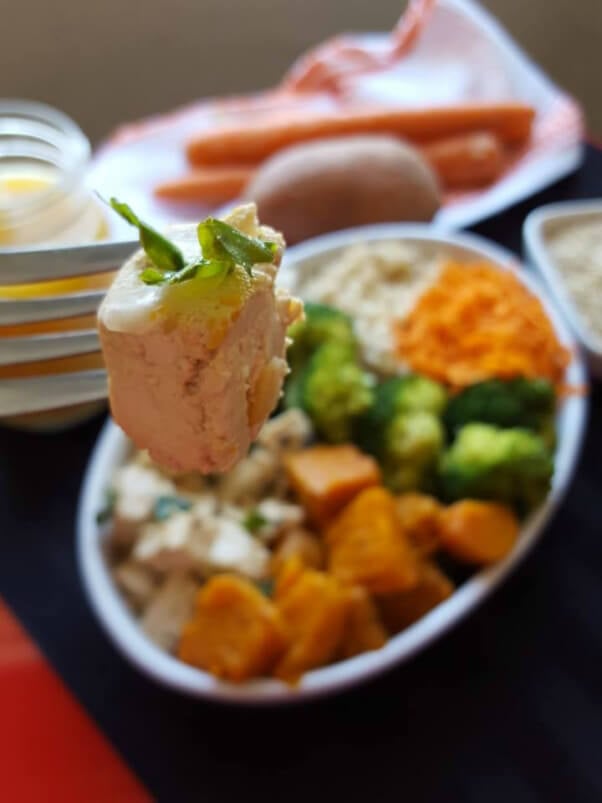 Want some more macro bowl inspiration? Try Healthy Happy Life's tempeh- and tahini-based recipe, Faring Well's sesame kale bowl, Keepin' it Kind's tumeric- and tahini-dressed bowl, or Blissful Basil's sesame-ginger broccoli macro bowl.