Political stories you may like – r.t:
Mitt Romney's Kamikaze strategy
By Greg Sargent, The Washington Post
"There's been quite a bit of consternation among reporters lately about Mitt Romney's refusal to answer their questions. And rightly so. But let's be clear on why Romney is refusing to engage reporters. If he did, he'd face questions about the mounting instances of dishonesty his campaign has resorted to in the final stretch — potentially tripping him up and placing all the dissembling into even sharper relief.
"In the race's final days, Romney has adopted what you might call a Kamikaze strategy. His campaign is cranking out a startling number of falsehoods and sleazy attacks, drawing widespread condemnation in the media that could ultimately crash his campaign, because that condemnation dovetails with Obama's closing character argument against him. … "
to read more, click on the link below:
http://www.washingtonpost.com/blogs/plum-line/post/mitt-romneys-kamikaze-strategy/2012/11/01/27ca3140-2435-11e2-ac85-e669876c6a24_blog.html
*******************
From The New York Times
It's All Up to Ohio!
By GAIL COLLINS

Earl Wilson/The New York Times Gail Collins
Cincinnati
Have we mentioned that it's all up to Ohio?
"People do like being the center of the universe. And Ohio – when does that happen?" asked P.G. Sittenfeld gleefully. He is a member of the Cincinnati City Council who went to battle recently over a series of billboards that popped up in minority neighborhoods announcing "VOTER FRAUD IS A FELONY!" with a picture of a gavel banging down.
The ads, which certainly seemed less than encouraging, were paid for by a foundation led by a big Republican donor from Wisconsin. Now they're down, and thanks in part to Sittenfeld's yelps, there are new billboards in the same neighborhoods saying, "Hey, Cincinnati: Voting Is a Right, Not a Crime."
So there's a happy ending. Although, in an ideal world, we probably wouldn't be required to remind folks that voting for president is not against the law.
"How do Florida and Colorado feel?" Sittenfeld wondered. "Do they resent us? Is there swing-state envy?"
It's been all up to Ohio for months now. But, on Wednesday, a new CBS/New York Times/Quinnipiac poll showed Obama leading Romney by five points in the Buckeye State. In response, Romney officials began to suggest that maybe it was really all about Pennsylvania. … "
to read more please click on the link below:
http://mobile.nytimes.com/article?a=990764&f=112&sub=Columnist
******************************
New York's Bloomberg endorses Obama to lead on climate change
New York mayor combines endorsement with attack on Romney for failures over climate change, women's rights and gun control.
By Ewen MacAskill and Suzanne Goldenberg in Washington, The Guardian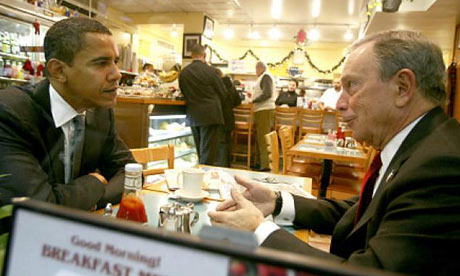 Bloomberg with Obama in 2008. The mayor praised Obama for having made some progress towards tackling climate change. Photograph: Diane Bondareff/AP
"The impact of the superstorm Sandy was felt directly on the presidential election on Thursday when the popular mayor of New York, Michael Bloomberg, threw his support behind Barack Obama, citing Republican challenger Mitt Romney's failure to back climate change measures.
"Bloomberg combined his endorsement of Obama with a devastating attack on Romney for reversing his positions not only on climate change but on immigration, guns, abortion rights and healthcare.
"His endorsement came as Obama received plaudits for his handling of the storm that has devastated New Jersey and New York and also hit Connecticut and West Virginia. … "
to read more click on the link below:
http://www.guardian.co.uk/world/2012/nov/01/bloomberg-endorses-obama-climate-change
************************
US election: 10 oddities explained
By Daniel Nasaw, BBC News Magazine, Washington"You've heard their policies, but what about the other questions? Like what's that jabbing gesture Obama makes with his thumb? And why are "Mr President" and "Mr Speaker" titles kept for life?
"We examine 10 of the lesser-spotted things about American presidential politics – and about this campaign.
"Why is Election Day always a Tuesday?
"Even though America's voter turnout is among the lowest in mature democracies and more than a quarter of people who do not vote claim they are too busy, efforts to move elections to weekends have failed.
"The Tuesday after the first Monday in November was set as presidential election day in 1845. …"
to read more, click on the link below: