Tag Archives: whole foods
Not this wild, edible tree made by Chef Joey!
But a real one!
CLICK HERE to learn more!
– R.T.
From PETA.ORG
Top Five Tips for a Vegan Christmas Feast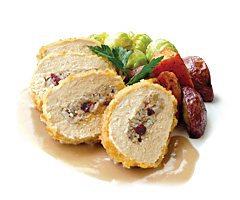 The following article was written by Keegan Baur.
This Christmas, are you looking for quick, easy, and delectable vegan foods to serve at your holiday meal or party? Whether you're vegan or you know someone who is—or you just want to "test out the waters"—here are some suggestions for irresistible, cruelty-free fare for your holiday get-together.
1.   Succulent main courses: There are plenty of ready-to-eat choices, but PETA's pick is Gardein's new Savory Stuffed Turk'y. Other flavorful options include Turtle Island Foods' Tofurky Roast and Field Roast's Celebration Roast.
2.   Veganize the classics: You can easily use vegetable stock, vegan margarine, and unsweetened soy milk to veganize family favorites such as stuffing andmashed potatoes with gravy. In bread and savory dishes, use Ener-G Egg Replacer instead of eggs, and in sweet baked goods, use apple sauce or bananas. Refer to these articles for more specifics on replacements for dairy products and eggs.
3.   Divine desserts: Decadent nondairy, egg-free desserts from New York City's famous Candle Café are now available at most Whole Foods Market locations. …
To read entire story, CLICK HERE
Former President Bill Clinton, who is renowned for his charisma and eloquence, has worked to shed light on numerous global issues through his humanitarian efforts and his many public speaking engagements. Recently, he has been promoting the benefits of vegan eating after changing his eating habits to improve his health. Thanks to his new plant-based diet, he's shed some pounds, decreased his risk of future heart problems, and spared the lives of many animals.
Because he uses his influence to promote the benefits of following a vegan diet, PETA is pleased to name Bill Clinton its 2010 Person of the Year.
Studies have proved that vegetarians and vegans live, on average, six to 10 years longer than meat-eaters. One reason why President Clinton took a step toward going vegan is that he wanted to make sure that he would be around to enjoy his future grandchildren now that his daughter, Chelsea, is married. Since then, Clinton says that his metabolism has improved, and he now weighs as much as he did in high school—so he's definitely on the right track. "I live on beans, legumes, vegetables, fruit," he said. "I drink a protein supplement every morning. No dairy."
By choosing a plant-based diet, President Clinton has spared the lives of nearly 200 animals a year and reduced his risk of cancer, strokes, and other diseases. Of course, the reasons for going vegan don't end there. The meat industry also contributes to world hunger, exploits workers, and devastates the environment.
Because he uses his influence to promote the benefits of following a vegan diet, PETA is pleased to name Bill Clinton its 2010 Person of the Year.