Thank you, PETA! Thank you, PETA!
Thank you to all the great moms, kids, dads, school teachers and regular folks who saw the insane heartlessness and MADE RIGHTEOUS NOISE, educated loved ones, strangers and politicians with passion AND smarts, stayed true and tenacious to the cause! Elephants do not belong in travelling shows!  They belong in their true home – the wild … nature in India and Africa.
I'd like to think InCity Times, which has been on this issue for almost 14 YEARS!!!!, played a teeny part in the turnaround.  The ELEPHANTS NEED TO BE FREE campaign! I am so proud of us for helping create positive change in Worcester … and the world!
Thanks to STEVE BAER, DEIRDRE HEALY and DEB YOUNG – InCity Times writers and animal lovers who wrote so beautifully and intelligently about elephants in our paper and on this website! Check out our circus FB page on this website. Deb's posted some stuff for ya!
I would like to see this MONUMENTAL VICTORY FOR ELEPHANTS enacted now! Happen today! Right this very second! Still, I'm VERY HAPPY! Very happy indeed!
– Rosalie Tirella
***********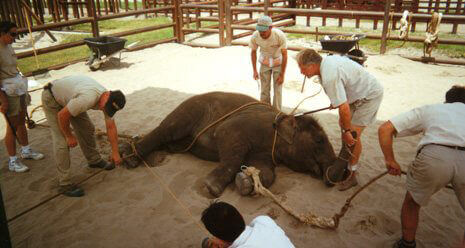 Ringling to Phase Out Elephant Acts by 2018
Written by 
March 5, 2015
| 
For 35 years, PETA has protested Ringling Bros. and Barnum & Bailey Circus' cruelty to elephants. PETA also caught Ringling's abuse on video and released to the world a former Ringling trainer's photos of the circus's violent baby-elephant training to the world.
We know that extreme abuse of these majestic animals occurs every single day, so if Ringling is telling the truth about ending this horror, then it's a day to pop the champagne corks and rejoice.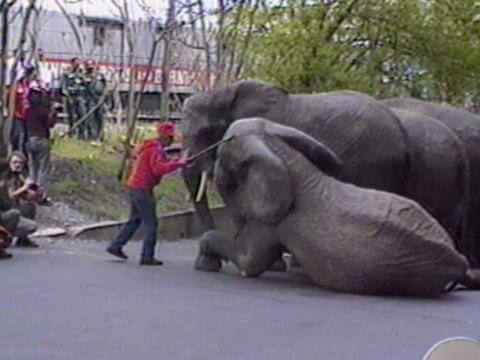 However, many of the elephants with Ringling are painfully arthritic or have tuberculosis, so their retirement day needs to come now.
Three years is too long for a mother elephant separated from her calf, too long for a baby elephant beaten with bullhooks (a sharp weapon resembling a fireplace poker that Ringling handlers use routinely), and too long for an animal who would roam up to 30 miles a day in the wild but who is instead kept in shackles.
If Ringling is serious about this decision, then it needs to end its use of elephants NOW.