President Obama is STILL my hero. He is STILL elegant, intelligent, compassionate. The country/world is a better place because of him. Please re-elect President Barack Obama Tuesday, Nov. 6.
Below: One of my favorite photos of the president. Too cool! We have all been a part of history!
To see more White House photos, click on the link below:
http://www.guardian.co.uk/world/gallery/2012/oct/18/barack-obama-presidency-in-pictures#/?picture=397905749&index=14
 – R. Tirella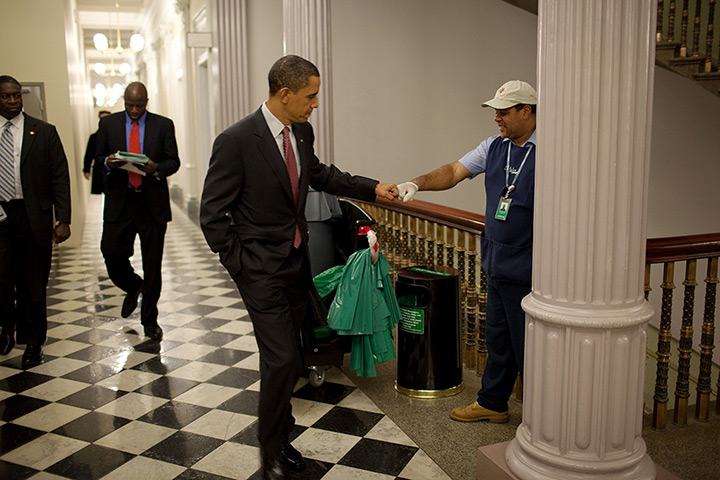 ********************
From The New York Times editorial board:
Barack Obama for Re-election
"The economy is slowly recovering from the 2008 meltdown, and the country could suffer another recession if the wrong policies take hold. The United States is embroiled in unstable regions that could easily explode into full-blown disaster. An ideological assault from the right has started to undermine the vital health reform law passed in 2010. Those forces are eroding women's access to health care, and their right to control their lives. Nearly 50 years after passage of the Civil Rights Act, all Americans' rights are cheapened by the right wing's determination to deny marriage benefits to a selected group of us. Astonishingly, even the very right to vote is being challenged.
"Multimedia
"That is the context for the Nov. 6 election, and as stark as it is, the choice is just as clear.
"President Obama has shown a firm commitment to using government to help foster growth. He has formed sensible budget policies that are not dedicated to protecting the powerful, and has worked to save the social safety net to protect the powerless. Mr. Obama has impressive achievements despite the implacable wall of refusal erected by Congressional Republicans so intent on stopping him that they risked pushing the nation into depression, held its credit rating hostage, and hobbled economic recovery.
"Mitt Romney, the former governor of Massachusetts, has gotten this far with a guile that allows him to say whatever he thinks an audience wants to hear. But he has tied himself to the ultraconservative forces that control the Republican Party and embraced their policies, including reckless budget cuts and 30-year-old, discredited trickle-down ideas. Voters may still be confused about Mr. Romney's true identity, but they know the Republican Party, and a Romney administration would reflect its agenda. Mr. Romney's choice of Representative Paul Ryan as his running mate says volumes about that.
"We have criticized individual policy choices that Mr. Obama has made over the last four years, and have been impatient with his unwillingness to throw himself into the political fight. But he has shaken off the hesitancy that cost him the first debate, and he approaches the election clearly ready for the partisan battles that would follow his victory.
"We are confident he would challenge the Republicans in the "fiscal cliff" battle even if it meant calling their bluff, letting the Bush tax cuts expire and forcing them to confront the budget sequester they created. Electing Mr. Romney would eliminate any hope of deficit reduction that included increased revenues.
"In the poisonous atmosphere of this campaign, it may be easy to overlook Mr. Obama's many important achievements, including carrying out the economic stimulus, saving the auto industry, improving fuel efficiency standards, and making two very fine Supreme Court appointments.
"Health Care
"Mr. Obama has achieved the most sweeping health care reforms since the passage of Medicare and Medicaid in 1965. The reform law takes a big step toward universal health coverage, a final piece in the social contract.
"It was astonishing that Mr. Obama and the Democrats in Congress were able to get a bill past the Republican opposition. But the Republicans' propagandistic distortions of the new law helped them wrest back control of the House, and they are determined now to repeal the law.
"That would eliminate the many benefits the reform has already brought: allowing children under 26 to stay on their parents' policies; lower drug costs for people on Medicare who are heavy users of prescription drugs; free immunizations, mammograms and contraceptives; a ban on lifetime limits on insurance payments. Insurance companies cannot deny coverage to children with pre-existing conditions. Starting in 2014, insurers must accept all applicants. Once fully in effect, the new law would start to control health care costs.
"Mr. Romney has no plan for covering the uninsured beyond his callous assumption that they will use emergency rooms. He wants to use voucher programs to shift more Medicare costs to beneficiaries and block grants to shift more Medicaid costs to the states.
"The Economy
"Mr. Obama prevented another Great Depression. The economy was cratering when he took office in January 2009. By that June it was growing, and it has been ever since (although at a rate that disappoints everyone), thanks in large part to interventions Mr. Obama championed, like the $840 billion stimulus bill. Republicans say it failed, but it created and preserved 2.5 million jobs and prevented unemployment from reaching 12 percent. Poverty would have been much worse without the billions spent on Medicaid, food stamps and jobless benefits.
"Last year, Mr. Obama introduced a jobs plan that included spending on school renovations, repair projects for roads and bridges, aid to states, and more. It was stymied by Republicans. Contrary to Mr. Romney's claims, Mr. Obama has done good things for small businesses — like pushing through more tax write-offs for new equipment and temporary tax cuts for hiring the unemployed. … "
to read more click on the link below:
http://www.nytimes.com/2012/10/28/opinion/sunday/barack-obama-for-president.html?pagewanted=all