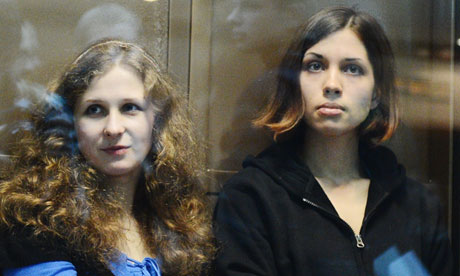 Pussy Riot band members Maria Alyokhina (left) and Nadezhda Tolokonnikova sit in a glass cage during their court hearing. Photograph: Natalia Kolesnikova/AFP/Getty
Broke our heart to read that two members of  Pussy Riot, the brave gal band from Russia, are being sent to Siberia for two years  courtesy of Russian president Putin. Why?  Because they sang their songs! Because they expressed themselves! These days to sing an anti-Putin song in a Russian cathedral = a kind of death. Not unusual for Putin who makes it a habit of  having his goons kill off Russian journalists who write exposes about his corrupt government. 
Why does this bad man have equal voting status (with USA and other democracies) at the United Nations? Why should this former head of the KGB, a guy who rigged his re-election, be allowed to have the same clout as Western European countries or America? (Money we suppose)
Utterly heartbreaking.
Read below (from The Guardian): – Rosalie Tirella
Two members of the anti-Kremlin punk band Pussy Riot have been sent to remote prison camps to serve their sentences, the group has said.
Maria Alyokhina, 24, will serve the rest of her two-year term at a women's prison camp in Perm, a Siberian region notorious for hosting some of the Soviet Union's harshest camps. Nadezhda Tolokonnikova, 22, has been sent to Mordovia, a region that also hosts a high number of prisons.
"These are the harshest camps of all the possible choices," the band said via its Twitter account on Monday.
Alyokhina and Tolokonnikova were convicted of hooliganism motivated by religious hatred for performing an anti-Putin "punk anthem" in a Moscow cathedral in February. They argued that their conviction was part of a growing crackdown on free speech and political activism in Russia.
They are expected to serve the rest of their sentences, which end in March 2014, in the camps, where conditions are reportedly dire. …
For the entire story click on the link below:
http://www.guardian.co.uk/world/2012/oct/22/pussy-riot-remote-prison-camps
Which Brings us to City Manager Mike O'Brien
To deprive inner-city kids of the chance to skate on the new Worcester Ice Oval is deserving of a Worcester mini-Pussy Riot! To paper over his big gaffe (charging an admission fee of $2 plus other costs per kid at the ice oval) and not just do the right thing is WRONG! For O'Brien to tell Worcesterites: The ice oval has to have "value" and the only way the rubes of Worcester can appreciate its value is if we make kids (even poor kids who may not have the $) pay $2 a pop is wrong. He has also told Worcesterites this garbage: The money raised from the ice oval's admission fee will go to fund Libby the WP Library Book Mobile. An insult to a citizenry that has seen its branch libraries closed and its main library usually closed – for about half the year – on Mondays and even Sundays. For City Manager Mike O'Brien to lay this kind of bullshit on us, after he closed our city kids' inner-city pools is repellent. Doesn't he want poor kids to have any kind of fun? Any kind of extracurricualr activites? And fianlly, O'Brien's most heartless comment of all: We will have a Worcester Public Schools Day (where all the poor city kids can skate for free and be charity cases)!
Pussy Riot! Pussy Riot!
To all the pussies out there! We have kids, we have nephews, neices, young friends, students! We give birth, we care for our elderly or sick moms and dads. We women know this is WRONG. Every kid – EVERY ONE OF THEM – means the world to us. They should ALL be able to have a little fun in Worcester this winter and skate on the ice oval for FREE.
Mike O'Brien's wife has a pussy! She is a mom who loves her kids!
Join the Pussy Riot brigade, Mrs. O'Brien! Join all the pussies who speak their minds, sing their songs! Join the pussies who want their cities to respect their citizenry and not create second class citizens, tiers of citizens.
The Worcester City Common – and its damned ice oval – belong  to ALL Worcester citizens – poor kids included.
Poor kids, especially!
Get that pussy rioting, Mrs. O'Brien! Talk some sense into your husband!
City Manager Mike O'Brien and his wife.  … .Pussy Riot to the rescue??!